Publicus Institute, commissioned by Népszava, measured the support of the government and the opposition among the Hungarian public by surveying 1001 individuals in a nationwide representative poll conducted between the 7th and the 11th of March 2022.
(Ezen kutatás magyar nyelven itt olvasható)
If there were a parliamentary elections this Sunday, 33 percent of respondents would vote for the Fidesz-KDNP alliance and 31 percent for the United for Hungary (Egységben Magyarországért) opposition alliance – among all respondents.
The support of the Two-Tailed Dog Party (Kétfarkú Kutya Párt) is one percent, and that of the Our Homeland Movement (Mi Hazánk Mozgalom) is two percent; all other parties have a total of one percent support. The proportion of undecided voters is 32 percent.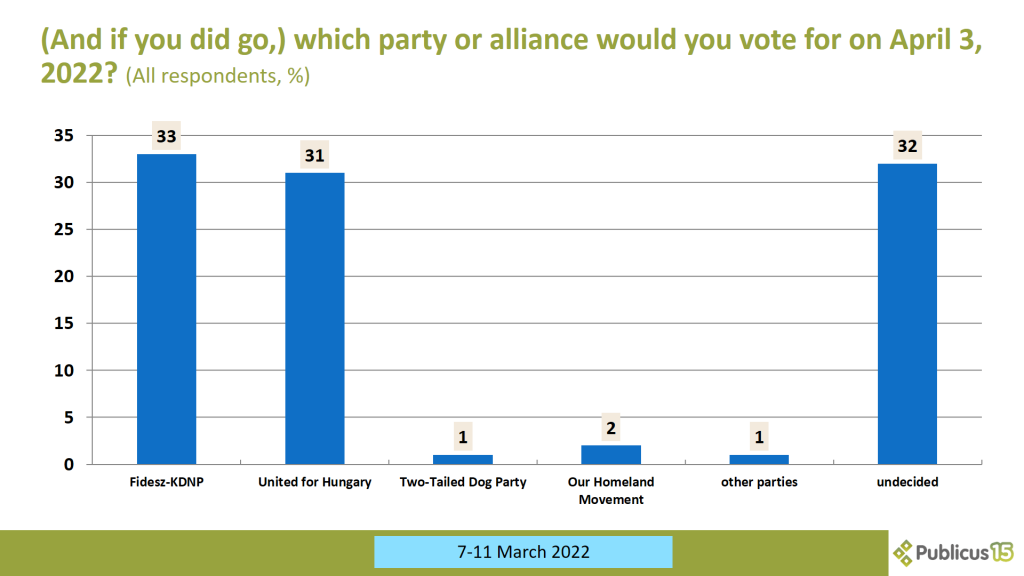 As a result of the Russian invasion of Ukraine, there was uncertainty among supporters of both political sides, but it was more pronounced among opposition voters, according to data from the first week of the invasion. However, the data measured in the second week of Russian aggression show a substantial correction in the opposite direction. Opposition voters who have previously become undecided are returning to the United for Hungary alliance, while the supporters of the governing parties are divided by the attitude of the Fidesz-KDNP towards aggression, which is causing slow erosion among them.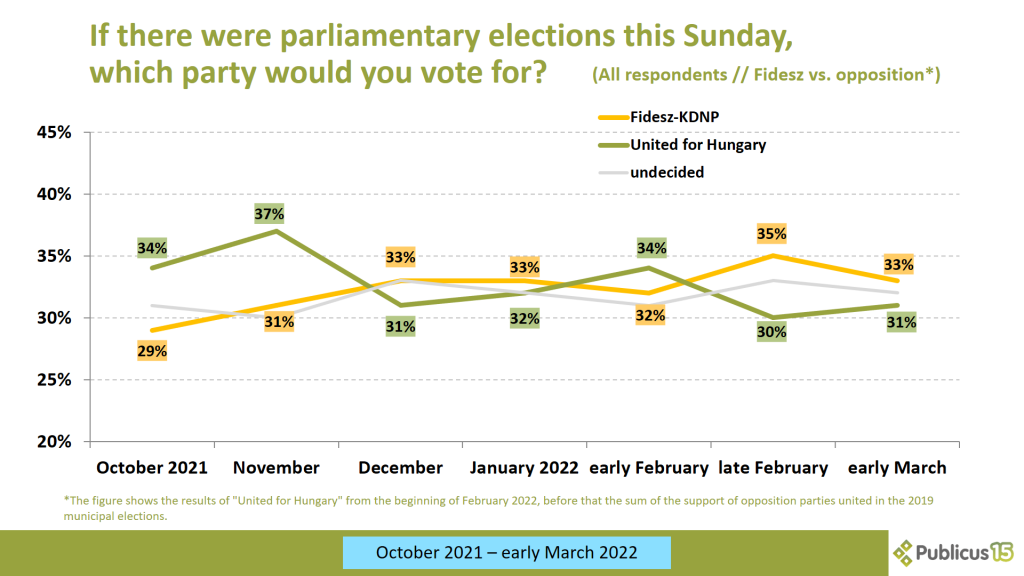 Six opposition parties (DK, Jobbik, LMP, MSZP, Momentum, Dialogue) form an alliance in the 2022 parliamentary elections under the name of "United for Hungary", so Publicus Institute releases data only on their alliance, not the individual parties, during the campaign period.
Further details on the results of the research can be found in the print and online editions of Népszava. When referring to this research, please also refer to Népszava.
(Ezen kutatás magyar nyelven itt olvasható)
Methodology
The survey was conducted by Publicus Institute, between the 7th and the 11th of March 2022, polling 1001 individuals via phone, who are representative of the adult population of Hungary. The potential distortions of sampling were corrected with weighting based on the data from the 2016 KSH census data. The attributes of the surveyed accurately resemble those of the Hungarian population by their sex, age, educational attainment, regional and settlement wise composition. With this sample size, we can state with a 95 percent confidence level that the data obtained through testing would only differ by +/-3,1 percent at most from that we would have gotten when surveying all 18 year old or older residents. The statistical error is larger however, when the distribution is configured not to all surveyed, but to certain smaller subgroups.